J.Crew Collection Cashmere Polka-Dot Sweater in Green Atlantic $268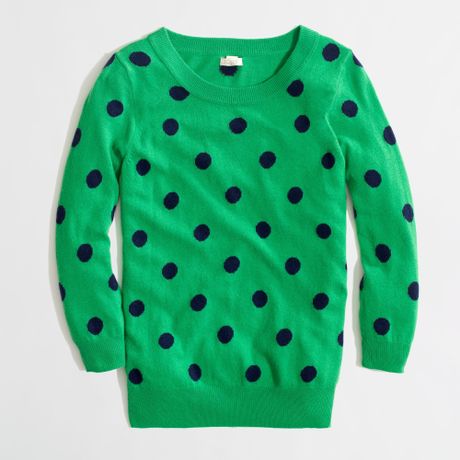 J.Crew Factory Intarsia Charley Sweater in Polka Dot in Kelly/Navy $80
So I've been selling quite a bit on eBay -- all of my gray and brown things -- and using the proceeds in purchasing the odd thing here and there. A couple of weeks ago I saw that some one had listed the
J. Crew Collection Cashmere Polka-Dot Sweater in Green Atlantic
, which I've always had a crush on, brand new with tags for 29 dollars. Of course it didn't stay that low, but I ended up getting it for $71 dollars shipped, which was a steal considering that it was originally $268. I was excited to get it in the mail.
Imagine my disappointment when I opened the package and found that I had received the J. Crew Factory remake, cheap and itchy, instead.
What's up with these sellers? Do they honestly not know the difference, or do they think that the buyers are that naive? Anyway, I immediately opened a case for a full refund, and after waiting until the last day before I'm supposed to contact eBay to start a claim, the buyer suddenly refunded me in full. No message, nada. So -- am I just supposed to keep this? I'm not the least bit in love with it -- it's majorly itchy.
I have learned my lesson though. If something seems to good to be true, it probably is.